The National HIV Behavioral Surveillance (NHBS) system provides data on HIV-related risk behaviors, which includes substance use. One third of Americans living with HIV binge on alcohol or use drugs. Increased risk for HIV infection can result from impaired judgment that can lead to risky sexual behaviors, in addition to the risk associated with the sharing of injection equipment.

Major Findings

Heavy drinking is relatively common across all three NHBS populations. Heavy drinking is defined as drinking more than two drinks for males, and more than one drink for females, per day, on average, over the past 30 days.
There have been significant increases in methamphetamine use in both the MSM and IDU populations.
There have been decreases in crack cocaine and powder cocaine use among the IDU and HET populations.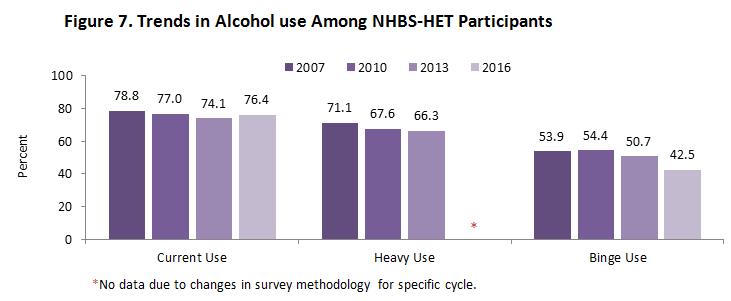 Read the full report: "Denver Substance use Profile: National HIV Behavioral Surveillance, 2005-2016".