HIV transmission from heterosexual contact accounts for approximately 12 percent of newly diagnosed HIV infection in the Denver metro area. Women are at particular risk for HIV infection due to high risk heterosexual contact. In Colorado, over half of women newly diagnosed with HIV became infected as a result of heterosexual contact. Furthermore, women of color are disproportionately affected by HIV.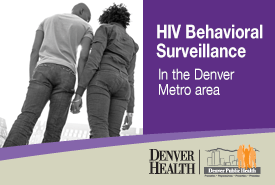 Trends in HIV Risk Behavior in Denver

Among heterosexuals at increased risk for HIV infection in the Denver metro area, risk behaviors appear to be decreasing. However, substantial numbers of persons continue to put themselves at risk by having multiple sex partners and not using condoms.

Several factors can put persons at increased risk for HIV, including:
Multiple sex partners: males with four or more partners, females with three or more partners
Exchange partner (i.e. exchanging sex with a partner for money or drugs)
Condomless anal sex
Condomless vaginal sex with casual or exchange partners
Non-injection drug use (not including marijuana)
Binge drinking during the past 30 days
Diagnosed with a sexually transmitted infection
Less than one in four heterosexuals at increased risk for HIV reported having had an HIV test in the last year.
How to Use this Information to Reduce HIV Infection in Denver
Read the full report, "HIV Behavioral Surveillance in the Denver Metro Area: Understanding HIV Risk and Prevention Behaviors among Heterosexuals at Increased Risk for HIV".
Apply findings to improve prevention, testing, outreach, and care services, particularly among HET who are engaged in high risk behaviors.
Additional Resources