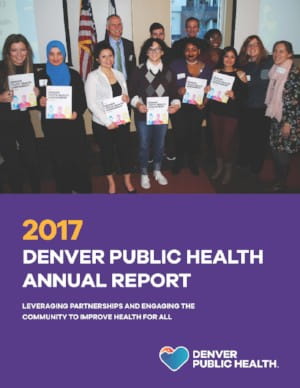 A significant amount of work conducted by Denver Public Health is completed in partnership with, and through support provided by, community and government organizations located throughout the Denver metro area. In 2017, Denver Public Health provided more than $3,000,000 in funding to 74 organizations. Some of our partners and funders include:
Metro Denver Partnership for Health
Denver Public Health is a member of the Metro Denver Partnership for Health, a collaboration among the public health agencies serving the seven-county Denver metropolitan region made up of Adams, Arapahoe, Boulder, Broomfield, Denver, Douglas and Jefferson Counties. Nearly 3 million Coloradans, 60 percent of the state's population, live in the Metro region. The Partnership collaborates with regional leaders in health care, human services, behavioral health, environment, philanthropy, education, business, local government and others to achieve its goals of advancing health equity across the region. In 2016, the Partnership identified four priority areas of focus including data sharing, healthy eating and active living, behavioral health, and partner alignment and formalized its approach to collaboration in the Metro Denver Partnership for Health Roadmap.

Members
Public Health Policy Templates
How to Become a Partner
While we may not have immediate opportunity to work together, we are always interested in building new relationships throughout the community. Please email Denver Public Health if you are interested in collaborating on public health improvements with us.