Enterovirus D68 virus is a respiratory virus that is part of a family of related virus strains called enteroviruses. It can cause mild to severe respiratory illness, particularly in children. Download an enterovirus fact sheet.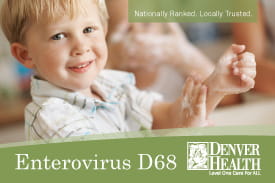 Who is at risk?
In general, infants, children and teenagers are most likely to get sick from enterovirus D68. Children who have other respiratory health problems including, lung diseases like asthma or weakened immunity, are at a higher risk.
What are the symptoms of enterovirus?
Symptoms of enterovirus are similar to those seen with the common cold, but can progress to more serious respiratory problems. Mild symptoms may include:
Cough
Runny or stuffy nose, or sneezing
Fever
Other, more sever symptoms can include:
Wheezing (particularly if there is a history of asthma or past wheezing)
Chest congestion
Difficulty breathing
How is enterovirus spread?
Enterovirus, like many other viruses, spreads from person-to-person when an infected person coughs, sneezes, or touches another person or surface. Viruses can live on surfaces for at least 24 hours, so it is important to wash your hands and disinfect surfaces frequently.
How can you prevent the spread of enterovirus?
Washing hands often is the most important thing you can do to prevent the spread of any virus. Kid Tip: Teach children to sing the "Happy Birthday" song twice while washing their hands, to ensure their hands are thoroughly washed and cleaned.
Avoid touching your eyes, nose or mouth with unwashed hands.
Avoid kissing, hugging or sharing cups and utensils with people who are sick.
Always cover your cough by coughing into your elbow, not your hands.
Frequently disinfect surfaces such as doorknobs and toys.
Make sure your family is up-to-date on vaccinations, including the flu vaccine.
How is enterovirus treated?
There is no specific treatment for enterovirus. For mild respiratory illness, you can help relieve symptoms by taking over-the-counter medications for pain and fever. Aspirin should not be given to children.
Some people with sever respiratory illness may need to be hospitalized. There are no antiviral medications currently available for people who become infected with enterovirus.
What do I do if my child has enterovirus?
Consult your family provider or Denver Public Health at 303-602-3614 if your child has any symptoms of enterovirus. Always call 9-1-1, or go to the emergency room for life-threatening conditions.