One of the three populations most at risk for HIV infection is gay, bisexual, and other men who have sex with men (collectively referred to as MSM).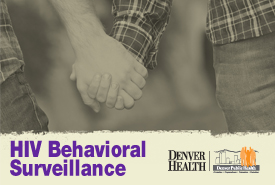 In Denver, new cases of HIV infection have steadily decreased since 2005. However, the number of those living with HIV and AIDS is at an all-time high. MSM represent approximately 75 percent of those infected with HIV, and between 15 to 20 percent of those infected are unaware of their infection.

Nine Factors That Increase Risk of HIV in MSM in Denver

Among gay, bisexual, and other men who have sex with men in the Denver metro area, risk behaviors appear to be increasing. Specifically, more men are reporting having condomless anal sex and more than three male sexual partners in the past 12 months.

One in three men did not know the HIV status of their last sexual partner. Additionally, men who have four or more of the risk factors listed below are at greatest risk for HIV.

Several factors can put men at increased risk for HIV, including:
Participating in condomless anal sex
Participating in receptive anal sex
Having more than three male sexual partners
Using injection drugs
Using methamphetamine drugs
Not being tested for HIV infection within the past 12 months
Being diagnosed with a sexually transmitted infection in the past 12 months
Not knowing the HIV status of a sexual partner
Having sex with an HIV-positive partner
How to Use this Information to Reduce HIV Infection in Denver
Read the full report, "HIV Behavioral Surveillance in the Denver Metro Area: Understanding HIV Risk and Prevention Behaviors among Gay, Bisexual, and Other Men Who Have Sex With Men".
Apply findings to improve prevention, testing, outreach, and care services, particularly among MSM who are engaged in high-risk behaviors.
Additional Resources