Denver Public Health Fellows Highlighted in National Publication for Work on Opioids
January 13, 2019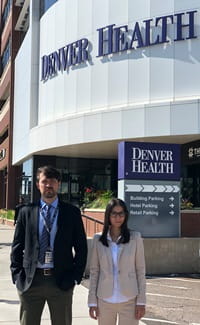 The National Association of County and City Health Officials recently published a feature article on three academic fellows working at Denver Public Health. The paper, "On the Front Lines of an Epidemic: Public Health Workforce Initiatives Jumpstarts and Opioids Response Project," describes how Drs. Wollelaw Agmas, Aziza Arifkhanova and Jose Tomas Prieto are developing a population health approach to opioid misuse disorder (OUD).
The fellows are funded by the Centers for Disease Control and Prevention. This work is part of CDC's new fellowship paradigm – the Population Health Workforce Initiative (PHWI) – in which fellows from diverse disciplines work together to help local health department's plan for and solve complex local problems.
Specifically, with their background in informatics, economics and clinical care, Drs. Agmas, Arifkhanova and Prieto have been working to develop an operational definition of OUD and opioid misuse. This definition will allow Denver Health and Denver Public Health to more easily report and measure the burden, treatment, process and gaps in OUD and misuse. Ultimately, such definitions and approaches will help to support the launch of the Denver Health Center for Addiction Medicine.
Read the full article to learn more about this project and the fellows' work.