COVID-19 Vaccines Help Kids Be Kids
November 16, 2021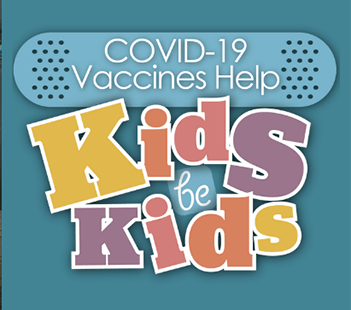 Local Public Health Agencies and Partners Launch Campaign to Inform and Answer Parents' Questions about COVID-19 Vaccine for Children Ages 5-11
Denver Metro Area, Colo. – For the last year and a half, Colorado's children have missed out on so many things – from sports games to birthday parties, and from sleepovers to in-person learning. Children are resilient, but they shouldn't face ongoing challenges without support. That's why the early-November announcement that the Pfizer-BioNTech COVID-19 vaccine is available for kids ages 5-11 is such good news for our community. Now that all school-aged children are eligible to be vaccinated, our kids can get back to the things they love — and most importantly, they can get back to being kids.
To help parents find resources and information about COVID-19 vaccines for children, the local public health partners in the Denver Metro Area — Boulder County Public Health, Broomfield Department of Public Health and Environment, Denver Department of Public Health and Environment, Jefferson County Public Health, Public Health Institute at Denver Health and Tri-County Health Department — in partnership with Immunize Colorado are launching a new public information campaign. The campaign, which is called "COVID-19 Vaccines Help Kids Be Kids" and launches this week, features local pediatricians, family medicine providers and public health experts explaining the ins-and-outs of the vaccine, and why they support vaccination for children ages 5-11. In addition, the campaign features local parents sharing why they are choosing to get their own child vaccinated.
"When it comes to trusted health information for their children, parents want and need to hear from primary care providers and other trusted medical professionals, as well as other parents," said Stephanie Wasserman, MSPH, Executive Director of Immunize Colorado. "It's been a long road to get to where we are, and parents and children alike have given so much. The widespread availability of the COVID-19 vaccine is good news and a major step to helping families across the state get back to their Colorado way of life – safely."
One of the main objectives of the campaign is to dispel misinformation and myths about COVID-19 vaccination in an effort to help protect children from the virus. Although fewer children have had COVID-19 compared to adults, they can still get it, become ill and spread it to others. As of October 2021, there have been more than 1.9 million cases of COVID-19 among children ages 5 to 11 in the U.S. since the onset of the pandemic. More than 39,200 of those cases were in Colorado with over 210 children ages 5 to 11 being hospitalized due to COVID-19. According to the American Academy of Pediatrics, currently about one in four cases of COVID-19 in the U.S. are among those ages 17 and younger.
Most children who do become sick with COVID-19 have mild symptoms or have no symptoms at all. However, some children can get severely ill from COVID-19. Children with underlying medical conditions are at increased risk for severe illness, and vaccination helps protect those children who are immunocompromised and cannot themselves receive a vaccine.
The Pfizer-BioNTech COVID-19 vaccine for children is a two-dose series given at least three weeks (21 days) apart. The vaccine dose for children (10 micrograms) is a third of the vaccine dose used among people ages 12 and older (30 micrograms).
The U.S. Food & Drug Administration (FDA) concluded the Pfizer-BioNTech COVID-19 vaccine for children ages 5-11 is safe and effective. The vaccine for children ages 5-11 was about 90% effective in preventing COVID-19, and 100% effective at preventing severe disease and death. The vaccine's safety was studied in approximately 3,100 children ages 5-11 who received the vaccine and no serious side effects have been detected in the ongoing study.
In the trial, side effects among children were similar to those among adults. The most common side effects were pain at the injection site, fatigue, headache, muscle pain and chills, all of which are normal signs that your body's immune system is building protection. There were no severe events related to the vaccine. In addition, COVID-19 vaccines and other vaccines, such as flu or other routine childhood immunizations, can be administered together.
"Almost a million children ages 5 to 11 years old have already safely been vaccinated against COVID-19, and thousands of children in the same age range have safely received the vaccine in a clinical trial," said Dr. Dawn Comstock, Executive Director at Jefferson County Public Health. "Getting a COVID-19 vaccine for your child will help keep them safe and can give you peace of mind that they are protected for whatever special moments life brings."
Kids ages 5-11 who are now eligible to get a COVID-19 vaccine can get one for free close to home. No insurance or ID is required. Check with your child's health care provider to see if they are offering the COVID-19 vaccine, or visit the new campaign webpage www.COVIDFreeKids.org to find vaccination locations for children and families across the Denver Metro region.
About the Metro Denver Partnership for Health
MDPH is led by six public health partners serving the Denver metro area: Boulder County Public Health, Broomfield Department of Public Health and Environment, Denver Department of Public Health & Environment, Jefferson County Public Health, the Public Health Institute at Denver Health, and Tri-County Health Department, serving Adams and Arapahoe counties. MDPH's work impacts nearly 3 million Coloradans — 60% of the state's population — who live in this region. MDPH is supported and staffed by the Colorado Health Institute (CHI). More information can be found on CHI's website at https://colo.health/MDPH.