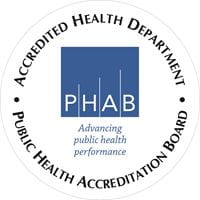 Together Denver's Department of Public Health and Environment and the Public Health Institute at Denver Health provide comprehensive, high-quality public health services to the City and County of Denver. In recognition of providing these services, Denver received national public health accreditation through the Public Health Accreditation Board (PHAB) in March 2017. The designation is a result of a rigorous peer-review process that confirmed Denver met or exceeded a national set of quality standards and measures guaranteeing residents are receiving high-quality public health services.
PHAB is a nonprofit organization dedicated to improving and protecting the health of the public by advancing the quality and performance of health departments. Public health accreditation has many benefits, including helping public health departments:
Better identify strengths and weaknesses,
Document capacity to deliver the three core functions and the 10 Essential Public Health Services,
Stimulate greater accountability and transparency,
Improve management processes used by leadership, and
Stimulate quality improvement and performance improvement opportunities.
Additionally, 80 percent of health departments that have been accredited for one year reported improved accountability to external stakeholders, and almost three-quarters report improved relationships with their governing entities. About half of these departments also reported improved competitiveness for funding.
Accreditation is based on standards that public health departments must use to provide the best services possible. To be accredited, the health department is required to complete a Community Health Assessment, Community Health Improvement Plan, and Strategic Plan. Documentation showing how the health department meets the standards, in addition to an on-site review, is also required.
Accreditation Key Milestones and Timeline
| | |
| --- | --- |
| Accreditation team selected | Complete - July 2013 |
| Statement of intent submitted to PHAB | Complete - August 2013 |
| Community Health Assessment, Community Health Improvement Plan, and Strategic Plan completed (prerequisites for the application) | Complete - January 2014 |
| Application submitted to PHAB | Complete - March 2014 |
| Site visit completed | Complete - August 2015 |
| Accreditation received | Complete - March 2017 |
Accreditation Resources