Health Equity is when people, regardless of who they are or where they live, have the opportunity to live the longest and highest quality of life possible.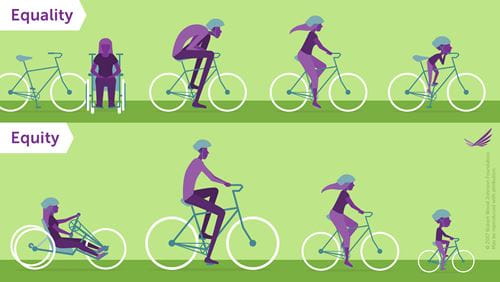 Why is it important for public health to focus on and eliminate health inequities?
Our health equity work has been implemented by committee, and the committee's goal is to strengthen staff capability and organizational capacity to advance health equity in Denver.
Our mission is to work with the community to improve health.
Social and racial justice is critical to ensure that Denver is a health place for

all

people.
We believe all people should have the opportunity to live a long, health life, regardless of their income, education, race or ethnic identity.
We see continual trends in data that show strong inequities in health outcomes.
What does Health Equity look like at the Public Health Institute at Denver Health?
Strengthening staff capability and organization capacity to advance health equity in Denver.
Recognizing, acknowledging and working to end historical and current inequities.
Providing training and targeted support so all staff understands the importance of health equity and how it impacts their work.
Integrating health equity into our services and programs to support the vision of the Public Health Institute at Denver Health.
Collaborating with Denver communities to understand address their health needs.
Health Equity Action Plan
The Public Health Institute at Denver Health's health equity action plan utilizes a racial equity framework as the foundation that embeds racial equity in our effort to achieve health equity via the four strategies outlined below.
Equitable and Actionable Data
Support a culture of data that collects, monitors, analyzes, and shares data on health outcomes and behaviors to assess disparities to advance health equity.
Community Engagement
Cultivate and invest in partnerships with impacted communities to develop shared power in public health.
Organizational Readiness and Capacity
Create and implement processes and opportunities to develop a diverse workforce that supports and promotes health equity.
Policy and Systems Change
Become a community thought partner on institutional policies that impact health equity.
Health Equity Resources
Equitable Hiring
The Public Health Institute at Denver Health has an equitable hiring toolkit that is given to all hiring managers when they request a position with Denver Health and Hospital Authority's Human Resource Department. This provides a standard hiring process for PHIDH and creating a process that supports hiring managers in recruiting and hiring diverse staff for their teams. The equitable hiring toolkit includes the following elements: FAQs, Equitable Hiring Action List, DEI Commitment Statement, Industry and PHIDH demographics, Sample Interview Questions, Sample Candidate Evaluation Form and an internal equitable hiring roles and responsibilities matrix.