Health Equity is when people, regardless of who they are or where they live, have the opportunity to live the longest and highest quality of life possible.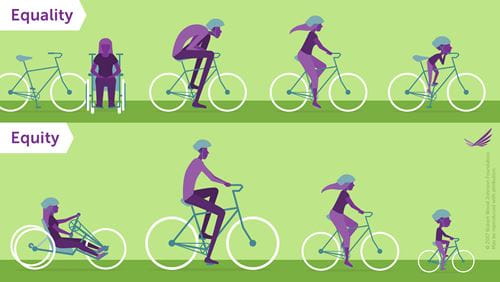 Why is it important for public health to focus on and eliminate health inequities?
Our health equity work has been implemented by committee, and the committee's goal is to strengthen staff capability and organizational capacity to advance health equity in Denver.
Our mission is to work with the community to improve health.
Social and racial justice is critical to ensure that Denver is a health place for

all

people.
We believe all people should have the opportunity to live a long, health life, regardless of their income, education, race or ethnic identity.
We see continual trends in data that show strong inequities in health outcomes.
What does Health Equity look like at Denver Public Health?
Strengthening staff capability and organization capacity to advance health equity in Denver.
Recognizing, acknowledging and working to end historical and current inequities.
Providing training and targeted support so all staff understands the importance of health equity and how it impacts their work.
Integrating health equity into our services and programs to support the vision of Denver Public Health.
Collaborating with Denver communities to understand address their health needs.