While an effective vaccine to prevent Human Papillomavirus (HPV)-associated cancer has been available for more than a decade, many parents have not made the choice to vaccinate their pre-teens and teens for reasons such as safety, knowledge and lack of strong provider recommendation.
HPV causes approximately three percent of all cancer cases among women and two percent of all cancer cases among men in the United States, including oropharyngeal, anal, cervical, vaginal, vulvar, and penile cancers. In Colorado, around 469 people are diagnosed with an HPV-associated cancer each year.
The Alliance for HPV Free Colorado is a collaborative of multidisciplinary stakeholders working to make sustainable increases in HPV vaccine series completion rates among 11-17 year olds. The Alliance consists of eight county health departments representing 15 counties in Colorado.
What are we measuring and how are we measuring it?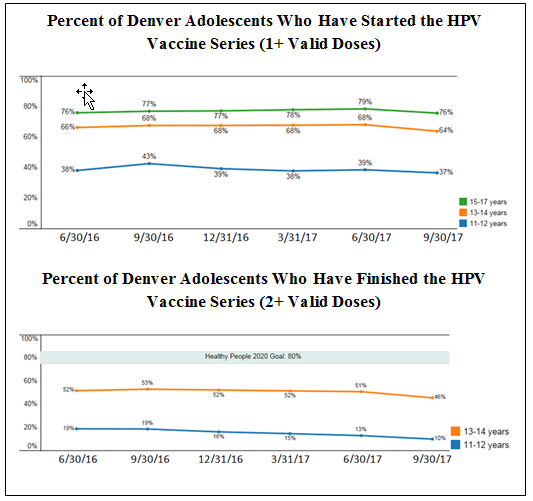 We use monthly data from the Colorado Immunization System (CIIS) to look at HPV vaccine coverage by county, age group, and gender.
Vaccine initiation (the percent of adolescents with at least 1 HPV vaccine dose) and completion (the percent with at least 2 HPV vaccine doses) help us understand successes and gaps in helping parents decide to start and then finish the vaccine series.
Data source: Colorado Immunization Information System, Colorado Department of Public Health and Environment.
Why do we measure this?
Healthy People 2020 set a goal that 80% of adolescents get the HPV vaccine. Maintaining vaccine coverage rates takes constant, focused effort, and all counties in Colorado are well below the goal.
We measure HPV vaccine initiation and completion to help guide the Alliance for HPV Free CO which is working to encourage parents of adolescents to talk to their doctor about the vaccine and equip medical providers to answer their questions and provide the vaccine.
What is the story behind the graph?
Between June 2016 and September 2017, HPV vaccine initiation was stable among 11-12 year olds and 15-17 year olds, while initiation decreased slightly among 13-14 year olds. The percent of adolescents who had finished the series decreased among both 11-12 and 13-14 year olds.
What evidence-based actions or practices are proven to work?
Enhancing access to services, such as reducing out-of-pocket costs for clients, home visits, and establishing vaccination programs in community settings.
Increasing community demand by using a mix of community and provider education and patient reminder/recall systems.
Using provider- or system-based interventions, such as immunization information systems, provider reminders, provider assessment and feedback, and standing orders.
Using a combination of the above approaches is particularly effective at increasing vaccination rates.
Source: The Community Guide.
What evidence-based actions or practices are we using in Denver?
To enhance access to services, our Immunization Clinic offers community outreach events throughout Denver providing vaccines at low or no cost for qualifying families. The clinic also partners with Denver Public Schools for Denver's In-School Immunization Program to offer school-located vaccination clinics.
The Alliance for HPV Free Colorado is working to reduce the burden of HPV-associated cancer and disease through education and collaboration in the Denver Metro area by increasing demand for the HPV vaccine. Specific activities include:

Convening an Advisory Council of providers cancer-serving organizations, immunization advocacy groups, public health professionals, and health systems to promote and cahmpion HPV vaccine education and awareness.
Implementing a targeted communications plan to increase knowledge about and demand for the HPV vaccine (visit HPVFreeCO.org for more information.)
Developing the HPV Business Intelligence tool to measure HPV vaccination rates and CIIS penetration.
Supporting practices in implementing quality improvement projects to increase provider adherence to national HPV vaccination guidelines.
Who are our partners?
Additional sources of data related to the measurement being monitored