What is post-exposure prophylaxis (PEP) for HIV?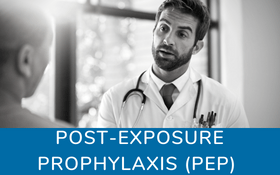 Post-exposure Prophylaxis (PEP) for HIV is an approach to prevent getting HIV after a possible exposure. Prophylaxis means disease prevention. PEP for HIV involves starting medications as soon as possible after an HIV exposure.
How does PEP work to prevent HIV?
PEP limits HIV's ability to divide and spread itself inside a person's body. It is very important to start PEP as soon as possible, but always within 72 hours after an exposure.
PEP is not a "morning-after" pill. It involves taking multiple medicines, once or twice a day, for 30 days.
Missing a dose may reduce PEP's ability to prevent HIV.
Missing doses may also enable the virus to develop resistance if the person gets HIV. This means that the medication may no longer work for the individual taking it.
Who should us PEP?
PEP should be used by anyone who thinks they have been exposed to HIV. People may be exposed to HIV in many ways:
On the job, such as through an accidental needle stick
From sexual assault
During condomless sex
Sharing needles used for injecting drugs
Individuals who have experienced repeated HIV exposures outside of a health care setting should consider HIV pre-exposure prophylaxis (PrEP). PrEP is an effective prevention option that reduces the risk of getting HIV.
Does PEP guarantee an individual won't get HIV?
No, unfortunately PEP is not 100% effective. It does not guarantee that someone exposed to HIV will not get the virus.
When should PEP be given?

To be effective, PEP must begin within 72 hours of exposure. After this time HIV infection is established and cannot be prevented.

Treatment should continue for four weeks.
If 72 hours have already passed, an individual should seek HIV counseling and testing services.
Does PrEP prevent other sexually transmitted disease (STDs)?
No, PrEP does not prevent other STDs or pregnancy. However, using safer sex practices, such as condoms, will help prevent STDs and pregnancy.
What should an individual expect if they use PEP?
An intake interview and counseling
A discussion about whether PEP is needed
Testing for HIV and STDs
If needed, taking medication every day for a month
Follow up HIV testing after completing PEP
Are there side effect to taking PEP?
The most common side effects from PEP medications are nausea, headaches, fatigue, vomiting and diarrhea. These can be treated and are not life-threatening.
Is PEP covered by insurance?
Yes, most insurance and Colorado Medicaid cover the cost minus a co-pay and your deductible.
Who to contact to talk about using PrEP

During the week (Monday-Friday):
Contact your primary care provider
Contact the STD and Family Planning Clinic at Denver Public Health 303-602-3540.
Nights and Weekends:
You should contact your primary care provider or seek care in a local emergency department or urgent care setting
Sources: